Kemco Of Burlington's Video
---
Since 1993, Kemco of Burlington has been servicing Alamance, Guilford, Orange, Durham, and Wake counties as well as surrounding areas with your heating, cooling, and electrical needs. We provide repair, maintenance, and installation for residential and commercial heating and cooling. At Kemco, we take pride in our work. We can take care of all your HVAC, electrical, and generator needs. Our technicians are on call 24 hours a day for your home or business. Kemco Electric and HVAC, the one call that does it all!
Emergency Electrical & HVAC Service
Our electrical and hvac service department can handle all of your electrical and hvac needs 24 hours a day, 7 days a week. We always have a professional on-call technician ready to help in an emergency.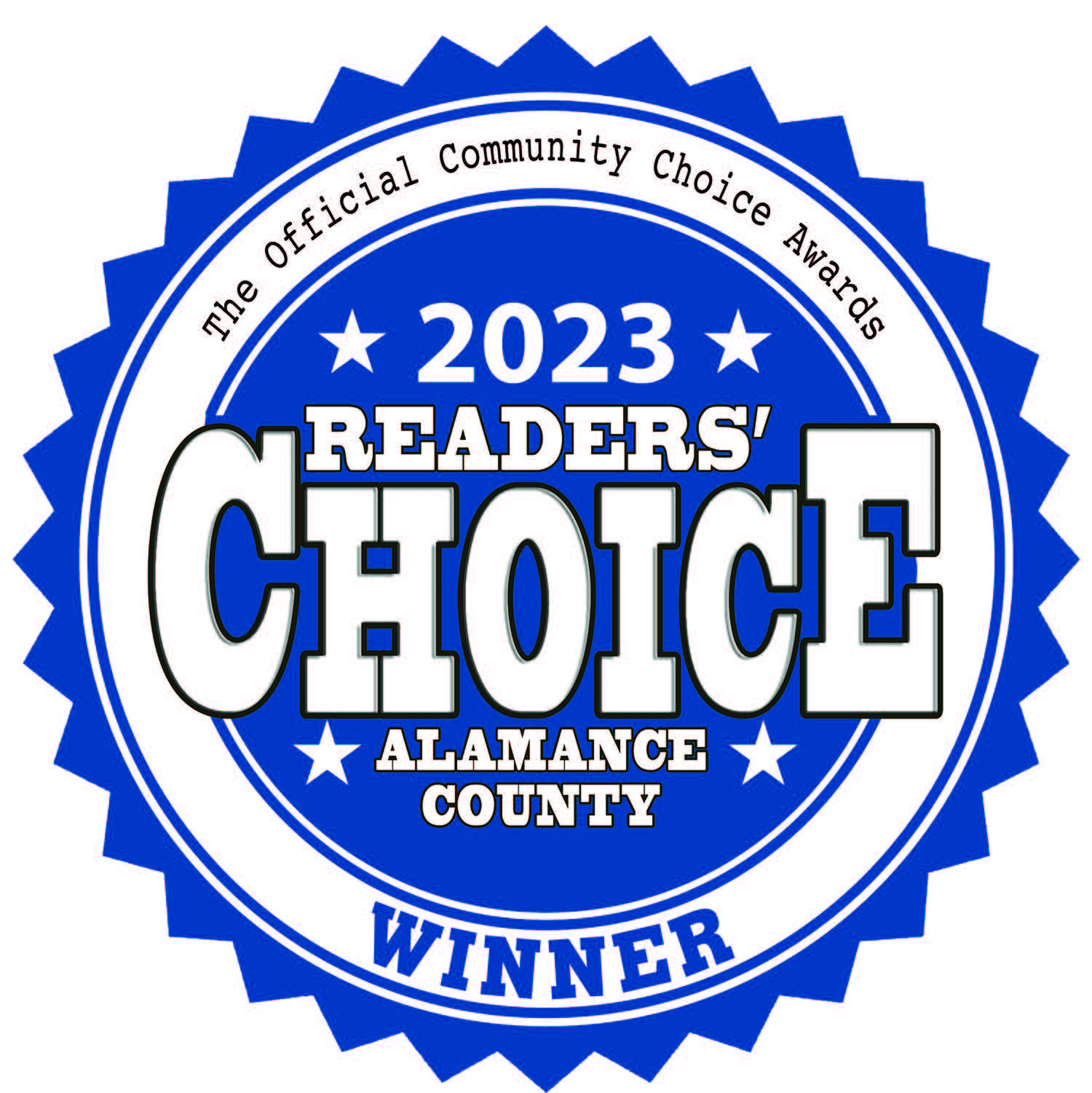 2017 - 2023
Times News Readers' Choice Winner
First Place 2023:
Best Electrician/Electric
Best Generators
Best Heating/AC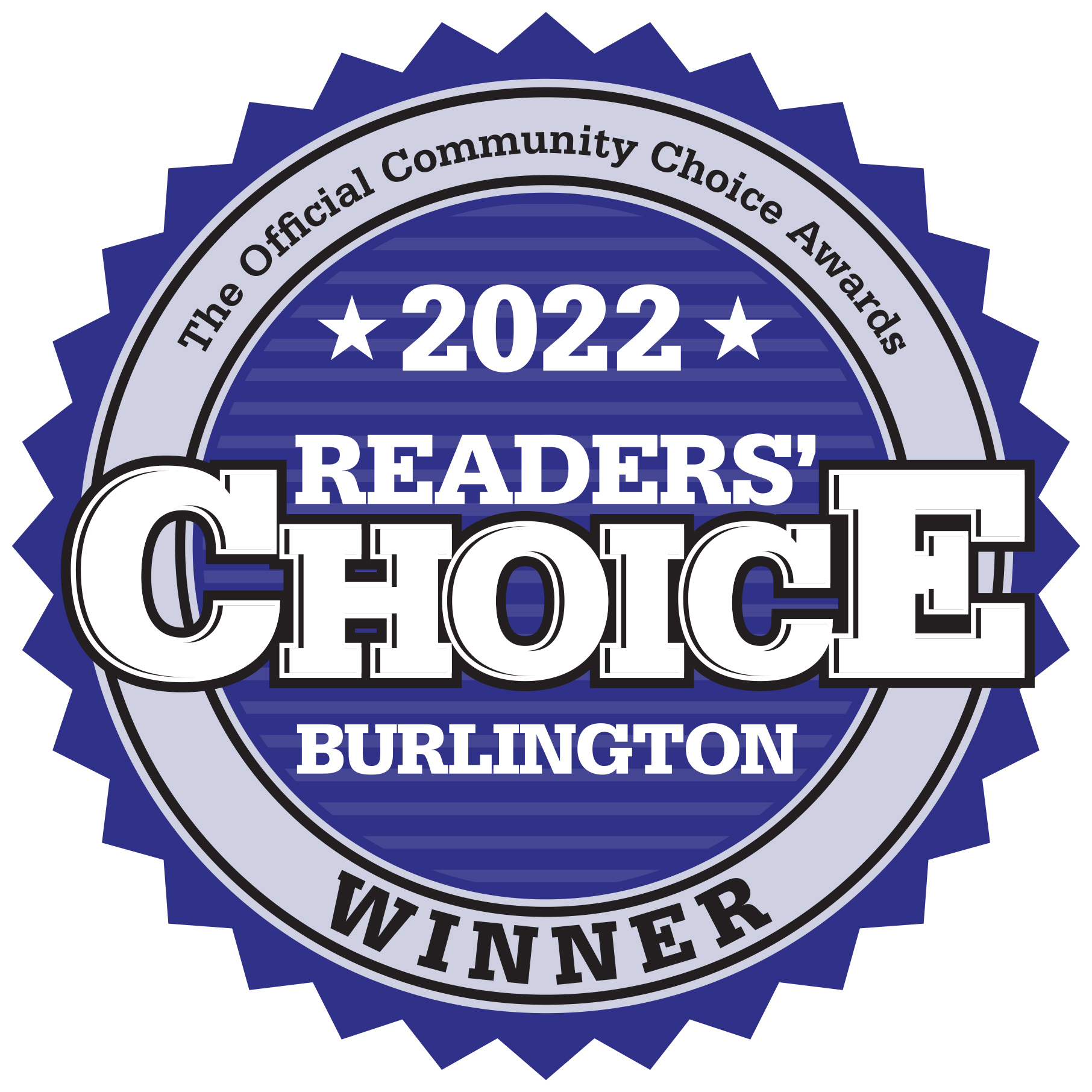 Two young men did a great job.  October, 2023

Charles was excellent.  October, 2023

Devin showed up on time, was very neat in appearance, very knowable about generators and specifically about the problem I was having with my generator. Outstanding personality.  October, 2023

I have been doing business with Kemco for a while now and have been very impressed with the quality of work they do. They have always handled my business with great respect and care. I couldn't ask for better service.  Thank you for all you do.  July, 2023

Very professional experience.  July, 2023

Lightning strike put my AC down and they had it fixed the next morning before it became uncomfortable. Thanks.  July, 2023

Steve and his assistant were very good at assessing the problem and getting my unit up and running. They explained everything and both were very professional.  July, 2023

We were very pleased with your professional, expeditious and quality work.You have our patronage for future service. Thank you!!!  July, 2023

Mark and Trevor were great. Arrived on time. Work done in a timely manner. Definitely would recommend.  June, 2023

Tim Gray is THE GOLD STANDARD. He is so thorough and takes such great pride in all the work he does. He always updates me on everything that he does and updates me on the condition of things(like in the crawl space and showing me filters and UV lights which we replace every 6 months )which is greatly appreciated!! He is a valuable asset to Kemco !!! thank you.  June, 2023

Wonderful techs. They worked so hard and did not complain about how difficult the job was. And, it was very difficult. June, 2023

The service was exceptional. The technicians were professional, answered my questions, and were very kind.  May, 2023

Dan was very professional. He did a great job and explained what was wrong with our unit and had it fixed and back working in no time!  May, 2023

Colton was excellent as usual. He let me know what needed to be done for approval. I recommend Kemco to all my friends! :).  April, 2023

Chris and Steve were fantastic.  April, 2023

Kemco is my "Go To" electric repair/service company!!  April, 2023

Kemco acted according to my project plan and saved me money doing so.  April, 2023

Steven was very professional and explained everything he was doing and why. Work was does efficiently and neatly. Need more people like him out there! Have had encounters with other home repair businesses and this certainly was one of the best ever!  April, 2023

Our technician was outstanding. Very knowledgeable and professional. Pleasure to have him servicing our unit.  April, 2023

I can't recall the technician's name but he had the BEST customer service communication!! He explained what and why he was doing certain things. AWESOME employee!!!!  April, 2023

Dan did an excellent job and I will only use kemco from now on.  April, 2023

All around great job. Really appreciate having someone available to get our heat back on and on Sunday.  March, 2023

True professionals, pleasure to work with.  December, 2022.

Very professional and excellent customer service. November, 2022

We have used your companies service 3 times on the electrical side and have been very pleased with all the work done. Chris has been the lead technician on my last two jobs and I highly recommend him hire his great work and professionalism.  October, 2022

My wife and I are very pleased with the work that was completed. Your technicians arrived when we were told that they would and their length of time on the job was as described to us. Excellent work!  October, 2022

Technician was very professional and polite.  October, 2022

We have been Kemco customers for many years and will continue to be so due to the quality of service, responsiveness, and reasonable pricing. We have recommended Kemco to out neighbors, friends, and coworkers and will also continue to do so.  October, 2022

Very professional, very courteous, came when they said they would. I'm very satisfied with this service. August, 2022

Excellent experience. Would definitely use again! August, 2022

Excellent service! August, 2022

Best experience I have ever had with a company will definitely be using you from now on! My unit is running better than ever! August, 2022

Everyone at Kemco has been extremely helpful. From Darlene on the phone calls and appointments to the service done by Seth and Shawn, you all have been nothing but professional. Thank you all for everything and being so easy to deal with. July, 2022

My husband and I absolutely love Kemco and refer you to everyone who needs help with the services you provide. July, 2022

Sean did an excellent job. Very thorough and explained everything. He also found a problem with one of the fuse boxes and repaired that. Excellent job, excellent company! July, 2022

We are so happy with your company. This is the third time we have called and each time we have been really pleased with service from start to finish. THANKS! June, 2022

Thanks for solving our air conditioning problem in a timely manner, we know this has to be a really busy time for your company. June, 2022

I do not remember the gentleman's name but he is always very kind and helpful!! June, 2022

Been very pleased with the service of Kemco. I have recommended this company to several people. Awesome Company! June, 2022

Excellent in every way. June, 2022

EXCELLENT SERVICE, KNOWLEDGABLE PEOPLE AND HIGHLY RECOMMEND. June, 2022

Thanks to Shawn for getting Colton out so quickly. We use you guys on our commercial properties! June, 2022

This was my first interaction with Kemco and it was outstanding. Thank you. May, 2022

Charles was excellent, accredit to your company . He explained everything that he did and why it was done, all to my complete satisfaction I will continue to be a customer. May, 2022

The technician who came out for routine maintenance was the same as last year and I really like him. Our air handler is in our crawl space which I'm sure is hard for him to fit in, but he doesn't complain--just works as needed. I can't overemphasize how courteous and professional he is. May, 2022

Darlene was very helpful from the start by answering my phone call and making an appointment. Seth completely surpassed every expectation of a service technician. He was punctual, professional and explained every step of the process in layman's terms. Great service all the way around. Thank You. May, 2022

Tim was great! Very professional and took the time to really check and clean our unit! He was awesome about explaining what he found! May, 2022

Both Colt and Nathan were extremely professional, courteous and knowledgeable. I could not ask for better service or price. I am a customer for life if these 2 gentlemen are an example of the quality of personnel your company employs!!! May, 2022

Darlene was friendly and helpful over the phone. The technician was very efficient and informative. He arrived early carrying the correct filters and knew where everything was- that's efficiency! May, 2022

Tim is so very knowledgeable, personable, and able to explain things in an easy to understand manner. You are blessed to have him as an employee and so am I. :) May, 2022

Thank you for your professionalism and service. May, 2022

Colton did a great job. He explained exactly what he did and why he did it. Definitely will use again! May, 2022

THANKS AGAIN KEMCO FOR TAKING CARE OF THE OLD PEOPLE. AT 85 YRS. OF AGE, WE CAN'T TAKE CARE OF MANY THINGS AT OUR HOME. THANKS AGAIN HAPPY EASTER. April, 2022

We are on a service plan and are pleased with it so far. Plan to have KEMCO do some electrical work for us in the coming months. April, 2022

The Technician (Brian Apple) was extremely friendly and knowledgeable and had our unit working within minutes and he was thorough to make sure there were no other issues to be found before he left. We highly recommend Kemco of Burlington for anyone who has HVAC or Electrical service needs. April, 2022

Both encounters with Kemco employees were very professional. March, 2022

My husband and I are very appreciative of the professionalism, expertise and quality of work that Kemco provides. We recommend Kemco to anyone needing your services. Thank you for being a top-notch company, it's hard to find these days. March, 2022

Technician Tim was knowledgable and courteous. Thank you. March, 2022

The guys came in and did great work! I am very pleased! Thank you! February, 2022

Tech called to update eta and called again to go over service provided. Everyone I spoke to from Kemco was incredibly friendly and competent. February, 2022

Daniel did a great job. He answered all of my questions, and he repaired a generator that had been out of service for many years! February, 2022

I was incredibly impressed with Sam's courteous and kind demeanor as he worked to do an excellent job to the house. I highly appreciate his hard work and determination. Thank you! December, 2021

I was very pleased with the technician, he worked diligently and was very thorough to ensure all was up to par. December, 2021

I will contact you the next time an electrician. December, 2021

It was a pleasure to meet Daniel and informing me of what needed to be done which he did very quickly and got our appliance working. I called the following day due to no hot water and Daniel also got the electric to the water tank working again. Thank you for the fine job. December, 2021

Andy, and his helper were very kind and knowledgeable. He went above and beyond to figure out what our electrical issue was. November, 2021

Everything was great. Andy was very professional. November, 2021

I should have gone with you from the start the beginning, instead I tried to save money and end up spending extra money, time, energy and a whole lot of aggravation. October, 2021

We were very happy with the electrician and the work he did. Thanks! September, 2021

I am very happy with Kemco. September, 2021

The technician is very knowledgeable and professional. Great service from a great guy! September, 2021

Kemco provided first class professional service in repair work and the office staff. This was the third time I have used them and in every case they have courteous, concerned and professional. I would give them my highest recommendation. September, 2021

It was an excellent, professional and thorough service call! The technician was also accommodating of my schedule! Thank you. September, 2021

Y'all are just the best - so very efficient, kind, helpful, knowledgeable, and I am so happy with all that you do. Thank you for all you do - I appreciate all of you!!!!!! September, 2021

I was not expecting my electrical issue to be addressed until next week, so imagine my surprise to receive a call on Friday afternoon. To my delight my issue was resolved quickly and my mind was greatly relieved with the information I received. Great job, you have a new satisfied customer. August, 2021

Brian Apple always serviced our boiler and AC when he worked for another company a few years ago. We have been fortunate and not had any problems with the AC for a long time - but Brian is my go to guy so I was disappointed to hear he was on vacation. Tim Gray came out, very nice guy, was professional and got the AC fixed in an hour. So far it seems to be working OK. Thank you! August, 2021

good folks to work with. August, 2021

Preformed maintenance job quickly. Very friendly and respectful. August, 2021

They did a great job pleasure to have them here. August, 2021

Andy has been the technician for the last several jobs at my home and he's been great every time. Very polite and professional and does jobs in a timely manner. Very knowledgeable! August, 2021

Mr Crockett was very personable & explained everything that he was doing throughout his visit. He even found sockets that had potential fire hazards for the home & replaced them. He made sure to go through each part of the house that I had questions about where the power had gone out in my mobile home & made sure that there was no other causes for the problem. He was even able to explain an extra switch that I had in my bathroom that I had no idea worked a light in my fan. That was going beyond for me. If ever I have another issue with my electric, I will be calling KEMCO & would like to have Mr Crockett be my service person. Thank you. August, 2021

Great technician! Excellent service! July, 2021

Being new to the area, very happy I found Kemco! July, 2021

Great response and very informative to all my questions. I will recommend to anyone needing your services. July, 2021

Service was better than expectations. Steve was able to get service performed very quickly. Literally days to install new service to a family who was in great need of power. It could have been weeks but somehow he managed to find a way to make it happen. Thank you so much. Now my grandchildren can have a better place to live. July, 2021

Was so thrilled to learn my house wiring was ok and it didn't require everything I thought it would. Thank you so much!! July, 2021

Well pleased with service thank you. July, 2021

He was a very nice young man & worked very efficiently, and in a very timely manner. Thanks very much! July, 2021

The service I received was outstanding. It was a pleasure working with Lisa and Tim. I will be calling to arrange for a service maintenance plan. June, 2021

GREAT. You exceeded my expectations. June, 2021

Excellent customer service from the time I placed call needing someone to fix my A/C to the technician fixing and explaining the problem and things that will need attention in the near future! I cannot stress enough how impressed I am with this company and the service they provided! June, 2021

Good job. Many thanks for your excellent service. June, 2021

Kemco has always been friendly & professional; from office staff to on site technicians. No maintenance plan offered. I do a yearly maintenance on the generator. I feel this was a n/a question. Very, very satisfied customer. May, 2021

Excellent service and tech explained everything to me. THANK YOU SO MUCH. April, 2021

Excellent customer service and same day service. February, 2021

Daniel is great and look forward to the service agreement on the generator. February, 2021

The technician, Randy, did a wonderful job and I was very pleased with the service.  January, 2021

The technician is excellent. He understood that I am stuck in Central Asia and my wife is quarantined in NC, so we could not meet him at the house. He explained everything he did in accessible detail; he took before-and-after photos of everything he did. He double and triple checked the wiring in the home and all the breakers; he demonstrated that our home mattered. KEMCO has earned a customer for life! Thank you, KEMCO.   January, 2021

Chris was prompt & polite. He clearly explained the solution to the replacement of an old bathroom light fixture. He had to leave & returned in a timely manner. Really appreciated his friendly yet professional service. I'll be calling KEMCO if an electrical problem arises again.  January, 2021

I had excellent service and the technician was very knowledgeable and helpful and very nice. He had on his mask and I had on mine - haha. Everything just went perfectly. Thank you again, Kemco, for excellence in all things. :)   January, 2021

The young man who rendered the service was very pleasant and professional. You are lucky to have him.  January, 2021

The technician was super helpful and nice!!  January, 2021

Very satisfied with your service!  November, 2020

Spencer did a great job.  We have had other people work on this gaspack, but they did not do like Spencer did. Great job.  Thanks, Phil. November, 2020

Great customer service everytime. Fast, efficient and always on time.  October, 2020

Such a nice and professional person. Put my mind at ease that he would solve the problem. My family and I will always use Kemco!  September, 2020

I was impressed with your service person showing up at the promised time sadly not many service companies are true to their promised times.  September, 2020

I could not ask for better service from the original phone call to set up an appointment to the service call. The tech was great, explained what he was doing and asked if I had any question. The service was quick and they fit me in the schedule same day I called. Would recommend them to anyone...great service!  August, 2020

Kemco rocks! always professional and we appreciate them keeping us cool in these hot summers!  August, 2020

Very knowledgeable and a great guy! He's been here many times in the past and is a favorite. I like the way he listens to me and explains things to me and can talk mechanical with my engineer husband! Great job, as always.  June, 2020

Always been able to count on you to do a good job.  June, 2020

Regarding the service maintenance plan, a technician had discussed this with us in a previous visit. So far, we have not yet signed up for a maintenance plan. Also, your technicians have always been very courteous and professional.  June, 2020

Very knowledgeable and professional. Took time to explain my AC options and answer questions. I would definitely recommend to neighbors and others. Thanks for excellent and timely service.  June, 2020

I would give the technician a ten if the rating would have gone up that high.  June, 2020

Randy Neal was our technician. He was professional, courteous, and friendly. I would highly recommend him as a technician!  June, 2020

Thanks for your great service every year!  April, 2020

Excellent service and staff!  April, 2020

Great guys, very knowledgeable.  My wife and I are very pleased with their work and professionalism. I would highly recommend Kemco!  April, 2020

I am very pleased with the service I received and with the technician who provided the service.   November, 2019

This follow-up service was provided more quickly than I anticipated. Thank you very much.   November, 2019

Tim Grey is the GOLD standard, if you could clone him, you would have the best company in the world. Kemco is very fortunate to have such a professional and smart technician. Thank you.   November, 2019

Our technician Tim was outstanding. He is an asset to your company. I would be happy to have him do any work in our home.   November, 2019

We appreciate the honesty and technical expertise of the technician . All of the Kemco personnel we communicated with were very helpful.   June, 2019

We were very pleased with the service provided by the electricians. We will definitely call Kemco for all of our electrical issues.    June, 2019

Love you guys! Thanks for the great service.   May, 2019

Technician did very good job on spring maintenance.    May, 2019

Chris was very professional and did a good job. He is friendly, polite, and a pleasure to talk with. He appeared to be very knowledgeable. Called to let me know he was on his way and arrived when he said he would. You should be pleased to have someone like Chris representing your company, after all the Techs are the people the customers interact with primarily. They are the "face" of the business. Chris took a picture on his phone of how dirty the coils were before he started and how clean they were after he finished. The dirty coils confirmed my suspicion that my former Heating/ Air company was not doing their job per contract. If they had been doing what they should have, the coils would not have been so dirty.  May, 2019

I was very impressed how my initial call to Kemco was handled and with the prompt and efficient service performed by the technician. I will definitely call Kemco again when I have electrical needs and will recommend Kemco to my friends. Thank you for such excellent service!!!    May, 2019

Outstanding response and service the techs were great! I have already recommended you to my sister.   January, 2019

Richard was very professional and worked to get the job done.    January, 2019

Very polite and professional. Would be happy to have come again.    January, 2019

Prompt and professional service.    January, 2019

I have used Kemco twice now and each time I was provided fast and professional service.  January, 2019

Excellent service and very professional.    January, 2019

The 2 technicians that came were excellent - professional, knowledgeable, very nice and polite and I thought they were both just perfect in their execution of their job. Thank you Kemco for everything you do for us. :)     January, 2019

Thank you so Chris for coming out and servicing our hvac unit, you were very courtesy, knowledgeable and professional, as well as patience with our questions as to what was happening with our unit. Happy Holidays!!!

I was not at home. My Son Tommy Nance worked with you and the technician. Tommy has shared with me the report. Your company provides excellent service. Thank You.

We have been very pleased with the service of KEMCO each and every time. The response has always been timely, professional and the work is above the norm for this day and time. We have recommended KEMCO many times already to our family members and our friends because of the work ethic we have experienced from each of the employees we have dealt with personally. Thank you all so much for providing a service that is dependable and fair priced. It has been a pleasure and a comfort knowing that we have someone we can call an trust in. Bless you all.

He took care of the issue in a timely matter and fixed the problem.

Stopped by office on a Friday to make an appointment for the next week. Had a technician at my home within an hour. Technician evaluated problem , made necessary repair, problem solved. The process from start to finish took one and a half hours. I would highly recommend Kemco to others and will definitely use their services again.

Excellent service. Arrived on time, went straight to work and completed tasks in a timely manner. Explained the work he did. Technician was courteous and neat. Well pleased with service.

We are very please with your service and also your staff. I am impressed with the office call and the technician.

Always great service. Whenever we did have an issue it was handled right away. We look forward to our appointments with Kemco!

We were very pleased with Kemco in all aspects! The technician arrived on time, did in a friendly, efficient and professional service. Thanks so much.

The over all experience was as usual excellent. I was very pleased and thank you for your service.

Chris did a great job of explaining what was done and did a neat job. He indicated he had to order a part to complete the heat exchanger job and would be back as soon as the part was received. He indicated he would keep us updated on the visit to complete the job. Well done.

Special thanks to Ronnie Taylor for setting things up to get us taken care of! The technicians that were sent to our location were the BEST and I would recommend them to everyone. Thank you so much for taking care of us.

Technician was very thorough and professional.

Fantastic service, super nice and personable, and we trust and appreciate this company very much!

I was very impressed and I will call you again. The tech was a nice and clean cut young man. He was knowledgeable and courteous. I appreciate that.  "Generator Service Call to Kemco"  

I ALWAYS FEEL IN GREAT HANDS WHEN I SPEAK TO RONNIE, HE ALWAYS MAKES ME FEEL IMPORTANT AND HE IS GREAT TO GET IT DONE RIGHT; WHETHER ITS SCHEDULING OR TROUBLESHOOTING ON THE PHONE. TIM GRAY IS THE BEST AND IS ALWAYS GIVING HELPFUL INFORMATION! THANK YOU,

Richard is always a pleasure! Ronnie is super courteous when we call to schedule our routine maintenance. Suggestion - Kemco should also offer "plumbing". It is great to work with one company for your household needs. Thank you.

Tech arrived about 1.5 hours BEFORE promised time. Was pleased.

I am new to the area. I felt like I received excellent service and am now a new customer of yours. Thank you for your help!

Brian was excellent, courteous, professional ,knowledgeable, thorough, knows his stuff!

Hi Thank you so much too bad I didn't know about you 10 yrs ago I never had service like kemco does for ac unit

Very satisfied with service and serviceman.

Technician was very professional and diligently worked until the task was completed. I very much appreciated his help.

Was very well pleased with the promptness and the work that was done!

I am extremely pleased with the service I received today 8-1-18 from Kemco. Ronnie did an awesome job getting a technician to my house same day, within hours when I was desperate to get my A/C working. Ronnie also did an excellent job finding the part needed so my A/C unit could be repaired same day. The technician Chris, did a great job locating the problem, getting the needed part right away and installed it all in an efficient manor  to get my A/C working within hours of arriving. The time it took to diagnose the problem and get the problem fixed was exceptional. I am so very thankful for Ronnie and Chris making sure my A/C was working same day. I do and will continue to highly recommend Kemco to everyone I know. On a scale of 1 (not good) to 10 (outstanding)  I give Kemco and the quality service I received, time everything took, as well as each person involved in my service, 10's in all areas! Thank you all so very much for your care, concern, quality work and reliable service. I appreciate you.

Very pleased with the service the technician has provided.

Always a quick response with quality service.

I have used KEMCO exclusively for many years and never been disappointed. Quick to respond even on weekends! I highly recommend them all heating and air conditioning needs.

Most excellent experience. This company really has it together.

Such a nice young man. He took the time to explain to me what had happened and the different services that Kemco offers Such a good experience. Will recommend to everyone.

I really appreciate Kemco servicing my emergency AC needs in a timely manner. I know the season is causing back-ups and no other company was able to provide same day service. Will be using Kemco for my future needs!

That technician was so nice and professional. I felt sorry for him because it was so hot. I need more work done but so far I would recommend Kemco to all my family and friends. Keep up the good work.

Very happy with the service, as always!

Chris did a great job and I appreciate his attitude and thoroughness; I apologize I could not answer question #3 appropriately as I did not understand what is meant by the technician's "matter."  His appearance was fine, his behavior was appropriate and his technical skills in servicing the unit were very good...I was pleased with his work and information provided.

Marco came in at 7:30pm on a 90 degree day... he was smiling, courteous, and efficient. We did not talk about much except what the squirrels had done to my house, the repairs, and that it was late and that we were his last call. Thank you so much for going the extra mile for your customers!

I plan to use Kemco twice a year to check out my a/c.

Very well trained and explained everything in layman's terms. I will recommend because it was a pleasure to have a company that will work with you and I will be a repeat customer. Thanks!

Chris was awesome and professional.

The best customer service for in-home service!!  The customer service is superb from the office to the field.

Cindy and Ronnie always give great attention and customer service. Tim the technician AWESOME. He comes with the attitude I'm going to get your problem resolved. He explains everything thoroughly and with a positive attitude of GREAT SERVICE to the customer!

Our technician was perfect. our HVAC system started working before he arrived but he still looked it over and showed us things that needed "maintenance". He suggested a yearly maintenance upkeep. He was very professional and very friendly. By far the best we have had since moving to NC in June of 2016. Way to go Kemco. We will come back year after year. I even called during a "winter weather advisory" and they were able to see me (a new customer) within hours. AMAZING service.

I want to say how happy I am with Kemco and the Tech that came to help us. There was 6 in of snow on the ground and not the best time for a heat pump to go out. Service was extremely fast and affordable considering the timing of the issue. Thanks again!!

I am very pleased with the service I received today, 12.18.17.

Very happy with the service, as always! Thanks for your good work.

I love doing business with Kemco. Everyone is so very professional. Thank you Kemco!

Your customer service and techs are second to none! Thanks all for the great service

Exceptional Service!  I have been blown away by the service we have received multiple times at my store Zumiez located in Durham at Streets of Southpoint. I went so far as to request you guys when my company sets up an electrician to fix our future electrical needs! Keep up the awesome work! You guys have a customer for life!

Chris and Spencer were excellent! They were very friendly, professional, and I was very pleased with their service! I had planned on calling in and purchasing the service plan that Chris sold me on, but I was contacted by Ronnie from the office, who was excellent as well! So, after Ronnie explained more details to me on the service plan, I accepted it over the phone. He was very courteous, professional, and really offered exceptional customer service! Thanks Chris, Spencer, and Ronnie! I will recommend this company without hesitation. I look forward to continuing my service with Kemco. Thank you so much! Could not be more satisfied!

Just wanted to say Shane and Spence could not have been more courteous and professional! I had planned on getting another quote due to the fast response and treatment I received I decided to stick with Kemco. I know a lot of people locally as I have lived here all of my life and will definitely pass on the service I received. Also, I would like Dennis to know I am impressed with his company. Thanks!

I prescient the quick reply by email followed up with a phone call. The technician came out the very same day. He answered all my questions, provided a lot of good information, and was able to fix the problem. I would definitely recommend Kemco and use your company in the future if needed. Best Regards.

My technician was prompt, completed his assignment, was very cordial and explained what he had done for the maintenance checkup which I had signed up last year. I would certainly recommend him to anyone who is interested in excellent service. Also, my unit is quieter and working very efficient.
Air Conditioning, Heating & Electrical Services
---
Kemco of Burlington, Inc. has been offering a broad range of full-service,
professional electrical
,
HVAC
,
heating
,
air conditioning
, and
generator
services to customers in Alamance, Guilford, Orange, Durham, and Wake counties as well as surrounding areas of North Carolina for over 20 years. See all of our
service locations in NC
. We specialize in both residential and commercial heating, cooling and electrical services using cutting-edge equipment and we only hire the best electricians and hvac technicians to work for our team.
---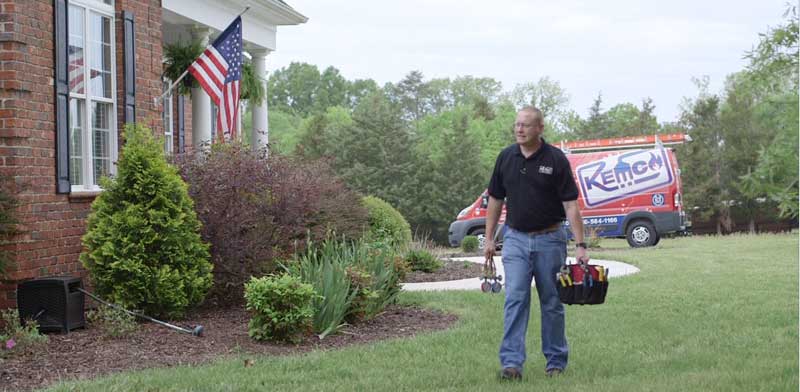 We repair furnaces, so you can stay safe and warm in the cold season. From new outlet installations and circuit breaker repairs to heating system maintenance and ventilation service, you can rely on our electricians and HVAC experts to get the job done right. Also, as a 
Trane Comfort Specialist
, we provide our customers with high-quality Trane products and services."
From Humble Beginnings
In 1993, Kemco was started as a one-man and one truck company. In 1996 Kemco of Bulington Inc was incorporated and a company was started. Today the company has grown to over 125 employees and a fleet of more than 80 service trucks, bucket trucks, and vans. We are honored to serve Alamance, Guilford, Orange, and Wake counties as well as surrounding areas of NC and fit our customers with energy-efficient and money-saving systems.