Outdoor Lighting Service in Charlotte, NC
Is your parking lot safe at night? Your customer's experience begins in the parking lot. A well-lit parking lot is easy to navigate and makes clients feel secure. On the other hand, dim parking lots and outdoor spaces increase the rates of accidents and crime. At Kemco of Burlington, we take care of all your outdoor lighting needs, so you can keep your customers safe and happy. We have various outdoor lighting service plans at affordable prices. Let our experts find the best lighting services for parking lots, malls, and strip malls.
Want to secure your building's outdoor areas? Call us at 704-393-9636 or
contact us
online to learn more.
Our lighting experts provide parking lot repairs, lighting design, and maintenance packages.
Outdoor Light Repair and Maintenance
Good lighting speaks volumes about your business. Exterior lighting is as important as indoor lighting. Some businesses have been sued because of injuries caused by inadequate lighting. Reduce the chances of accidents on your commercial property. Make sure that your space is properly illuminated. Call us to learn more about outdoor light repair and lighting maintenance services.

Having trouble with your outdoor lighting? Dial 704-393-9636 and our team will be there in no time! We have a fleet of vehicles equipped to handle parking lot repair and facility maintenance needs in Charlotte, NC.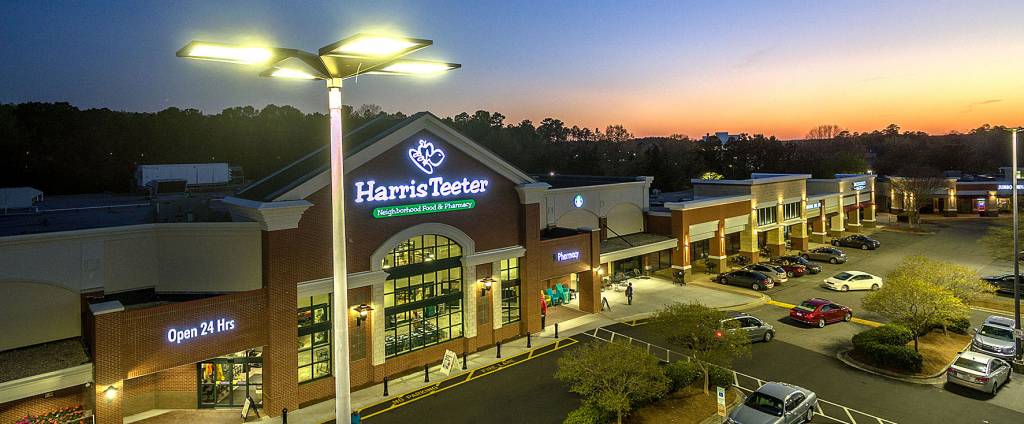 LED Services
Get more savings while keeping your parking lots and strip malls brighter. LED lighting is brighter and uses up to 75% less energy than conventional lighting systems. LED light fixtures also have a longer lifespan, resulting in fewer maintenance costs. Because LED fixtures distribute light more evenly, you need less to brighten your space.

Ready to save money on lighting? Kemco of Burlington provides exterior LED lighting, LED parking lot lighting design, LED pole light renovation, and LED sign retrofits. Call us today at 704-393-9636 to experience five-star LED services in North Carolina.
Exterior Lighting Services in North Carolina
Kemco of Burlington is your one-stop-shop for all outdoor light solutions. We customize our services based on the needs of your parking lot and commercial facility. Our trained team handles all makes and models of outdoor lighting systems. We make properties safe through:
Outdoor Lighting Installation
Outdoor Light Repairs
Parking Lot Repairs
Facility Maintenance
Exterior Lighting Upgrades
LED Services
Energy Solutions
Outdoor Lighting Fixture Replacement
24-Hour Emergency Lighting Service
And more!
No lighting job is too small or big! Contact Kemco of Burlington for professional outdoor lighting service in North Carolina. We service parking lots, strip malls, malls, and commercial properties. Call us at 704-393-9636 for a free parking lot audit and consultation.